Profile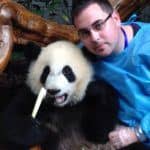 Stéphane Berneau
Curriculum Vitae
Education

2000-2004: High School (France); 2004-2006: College (France); 2006-2008: Université Paris 7 (Faculty of Medecine); 2008-2012: Universite Paris 7 (Undergrad and Master degree in Biology); 2012-2016: University of Manchester (PhD in Reproductive Biology)

Qualifications

Scientific Baccalauréat (Speciality Biology, France); BSc in Cell Biology and Physiology (Université Paris 7, France); MSc in Reproduction and Development (Université Paris 7, France); PhD in Reproductive biology (University of Manchester, UoM)

Work History

INRA – France; INSERM – France; University of Manchester

Current Job

Research Scientist in Reproductive Biology @ Manchester Metropolitan University

Employer
Favourite thing to do in my job:

Inspiring students and explaining funny facts about reproductive biology

About Me:

I started out as a medic student and finished as a researcher in biology in love with Science and lab experiments

Read more

I moved to Manchester 5 years ago from Paris to start my PhD in embryo implantation. It was a good importunity to learn English while doing some incredible science. Since then, I have found a job as a research associate in a Reproductive biology team in Manchester. I love Manchester.

I don't have a pet here in the UK but my heart beats for our family dog called Vénus (Greek goddess of beauty). I have installed a 240-litres fish tank at my parents' place and I love to see them growing and getting babies.

I am really fussy about food … Yes, I am French and I love French food (even snails). Nothing is better than cheese and some bread.

I really enjoy going out with my friends (most of them are my lab colleagues): restaurant, quick catch-up in costa or even going to watch a movie. I went to watch Black Panther… OMG, it was so good.

Even if I work really hard, I like to take some time off to visit countries and observe animals in their natural habitat or in conservation parks. I have been really close to a wild mummy bear and her 2 pups in Canada, white lions and baby lions in Mauritius, dolphins in Cuba and panda in China.

Looking forward talking to you in the Genes zone!

My Work

I am investigating the effect of lifestyles on human sperm quality (involving DNA analysis and microscopy)

Read more

I really enjoy being in the laboratory and doing some experiments.

I have always been interested in reproductive biology to potentially find a way to help couples getting pregnant.

At the moment, I am working on the effect of lifestyles (such as if someone drinks alcohol, plays sports or smokes cigarettes) on the sperm parameters.

What are sperm parameters? It could be if the sperm cells move and how they move, also how much there are and how they look.

In the laboratory, I am using a technique called "Comet Assay" (because it looks like comets).

The DNA presents in sperm cells can be damaged and there is no system available in these cells to repair it. Smoking is known to damage DNA integrity. If the DNA is damaged, it will be fragmented. Therefore, when I apply an electric field on it, the fragmented DNA migrates and forms a comet tail (chemically induced fragmentation on the right picture).

I love fluorescence microscopy (look at my fluorescence pictures in my profile, most of them are mouse embryo)

Come and ask me some questions.

My Typical Day:

Going to the lab, putting the radio on (to give the rhythm) and doing some exciting science.

Read more

This is a very difficult question because, in science, we don't have typical days: we work really hard in the laboratory but it is exciting when your experiments work and give you a great result.

Due to the fact that I work with Human participants, my days are highly dependent on them. Moreover, I am involved in about 10 different projects and I am teaching techniques to students at the university. Therefore, I don't have time to get bored.

What I'd do with the prize money:

I would use this money to engage with students to explain the major roles of research project involving human participants and how to participate.

Read more

I have noticed that not many people are aware that some research is taking place near them or that even participating once in a research project is important for that specific project and progress in research.

Research involving participants is very difficult and tricky. That's why I am requiring your support.

This money could help creating an advertisement for research awareness in general public which could help knowing more about rare genetic diseases (by getting more participants).
My Interview

How would you describe yourself in 3 words?

Hard-worker, Funny and Creative

What or who inspired you to follow your career?

Darwin... Evolution and Travel

What was your favourite subject at school?

Biology (by far), music and Arts

What did you want to be after you left school?

Tricky one but from school to college, I wanted to be a Vet then a opthtalmologist and finally a biologist.

Were you ever in trouble at school?

Maybe a little bit ... I enjoyed too much talking to my friends

If you weren't doing this job, what would you choose instead?

Working for an Animal Conservation program.

Who is your favourite singer or band?

Always listening to radio for Top UK hits... I love Wonderwall from Oasis!

What's your favourite food?

I love French food: frog legs and snails ... in both cases, there is a garlic butter sauce! So Yummy.

What is the most fun thing you've done?

In Canada, I have slept in a national reserve with wild animals (racoons, bears, wolves, beluga and whales)

If you had 3 wishes for yourself what would they be? - be honest!

Being rich to help my family and enjoy doing science, Speak all languages in the world and Travel the world.

Tell us a joke.

Q: Anyone know any jokes about sodium? A: Na (The symbol for sodium on the periodic table)
My profile link:
https://ias.im/u.173054
---
---